Usha 50 Desert Cooler White and Black
Usha 50 Desert Cooler White and Black
 

Cooler Type: Desert Cooler

 

Fan size (Inches): 24

 

Tank Capacity (Litres): 50

 

Speed Settings: manual

 

Air Throw Distance: 3400 m3/hr
Technical Specification
Reviews (0)
Cooler Type : Desert Cooler

Fan size (Inches) : 24

Tank Capacity (Litres) : 50

Speed Settings: manual

Air Throw Distance: 3400 m3/hr

Body: ABS

SUPC: SDL378984348
General
Cooler Type
Desert Cooler
Brand
Usha
Model
Cd503M
Tank Capacity (Litres)
50
Speed Settings
manual
Fan size (Inches)
24
Max Speed (RPM)
Air Throw Distance
3400 m3/hr
Body
ABS
Dimensions (LxWxH)Power
Power Consumption
190W
Max Current (Amps)
Manufacturer/Marketer/Packer/Importer Details
Manufacturer's Name & Address
NA
Country of Origin or manufacturer
NA
Importer Name
NA
If you are on the lookout for desert coolers, then opt for this Usha CD503M. An excellent air cooler, it has a capacity to hold up to 50 litres of water. This air cooler provides optimum cooling without consuming too much electricity as it runs on a 190 W motor. The cooler has a manufacturer's warranty of one year.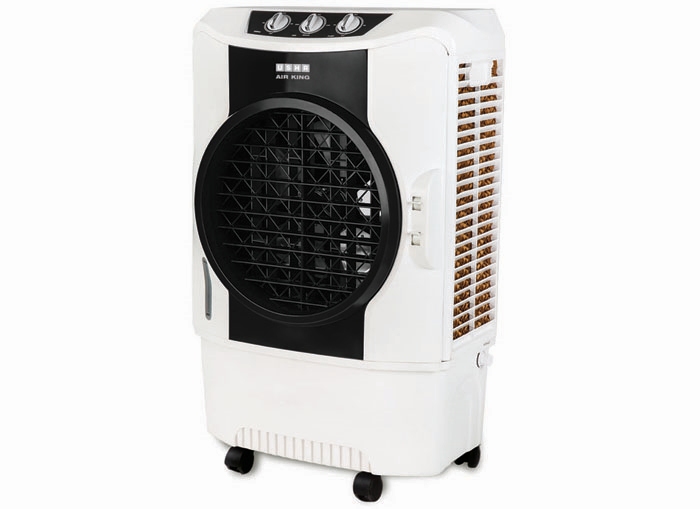 Cooling Capacity
The advantage of using this Usha CD503M is that not only is it energy-efficient but also cools the room efficiently. Apart from this, in case of a power failure, the air cooler's natural convention can transfer air.
Speed Control
The cooler has a three-way speed setting so that you can control the temperature.
Cooling Media
The cooling media used by this air cooler from the house of Usha is honeycomb. A honeycomb media consists of thick cooling pads glued together in a honeycomb shape. The advantage of this cooling medium is that the unique design allows for a low-pressure drop across the pad while achieving a high cooling efficiency. The pad is designed to be self-cleaning and will retain its rigid structure when exposed to water making it extremely durable.
Powerful Air Throw
Usha CD503M has an air throw distance of 3400-metre cube per hour. The air throw distance of an air cooler indicates the distance till where one can feel the air from the front panel.